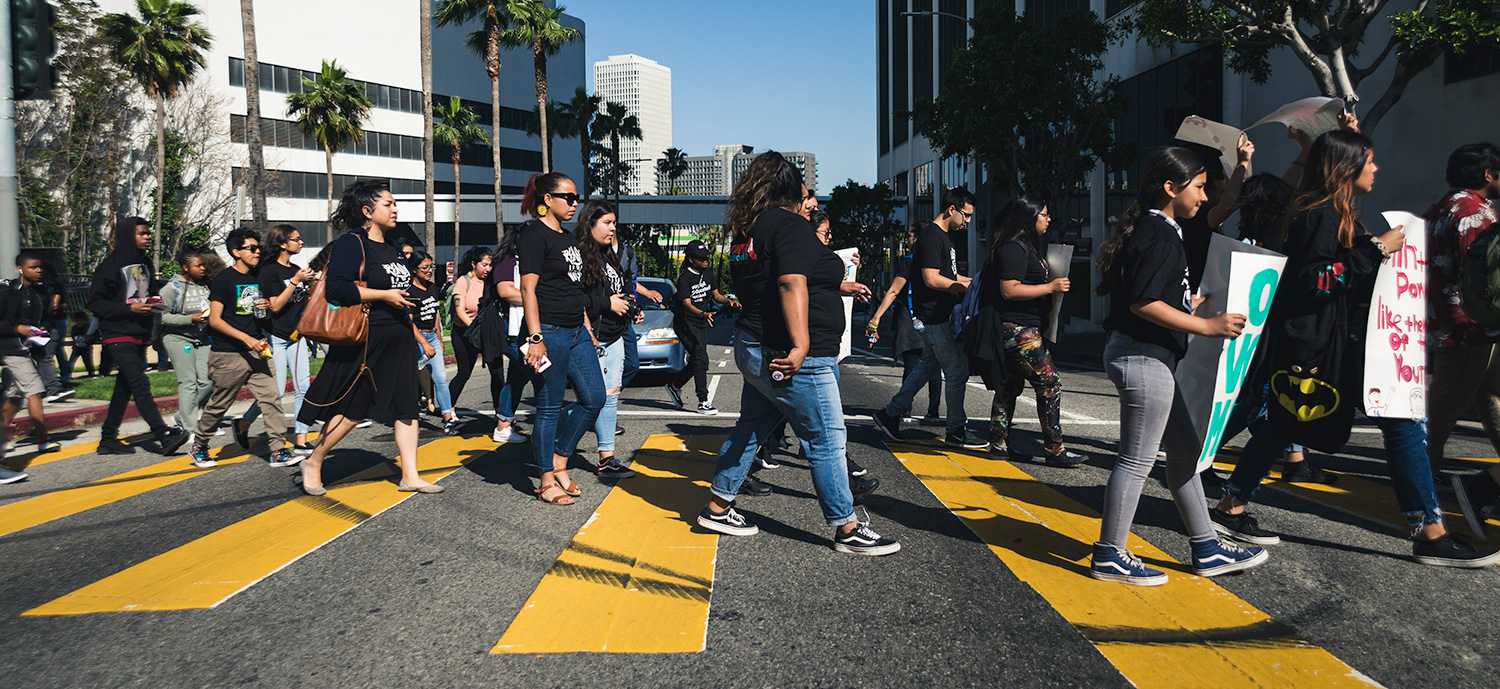 Board
Angelica Salas
Chair
Angelica Salas is the Executive Director of the Coalition for Humane Immigrant Rights of Los Angeles (CHIRLA), and is widely regarded as one of the most gifted activist/organizers in the country today.
Since becoming CHIRLA's director in 1999, Salas has spearheaded and won several ambitious campaigns. She helped win in-state tuition and access to financial aid for undocumented immigrant students, and most recently helped win drivers licenses for the undocumented community in California. Salas is also a leading national spokesperson and organizer on federal immigration policy. She is a prominent figure in ethnic and mainstream press and is often quoted on all issues related to immigrant well-being.
Under Salas' leadership, CHIRLA and its national partners have built the foundation for the upsurge in immigrant rights activism. She is a leader in national coalitions of organizations which have successfully mobilized millions of immigrants to demand comprehensive immigration reform with a path to citizenship, family reunification, and protection of civil and labor rights. One of her greatest accomplishments at CHIRLA has been the transformation of a social service provision coalition into a statewide mass membership organization that empowers immigrants to engage in advocacy on their own behalf. Today CHIRLA weaves together organizing, electoral civic engagement, community education, policy advocacy and legal services to fully engage and empower immigrant families.
Salas comes by her understanding of the immigrant experience firsthand. As a five year old, Angelica came to the U.S. from Mexico to rejoin her undocumented parents who had come to the U.S. to provide for their family. She grew up in Pasadena, California, and is a graduate of Occidental College. Angelica Salas is married to Mayron Payes, an immigrant from El Salvador, and has two children, Maya and Ruben Payes.
---
Luis Sánchez
President
Luis Sánchez is both the President of PowerCA Action and the Executive Director of Power California, its 501(c)(3) sibling organization. Over the last 25 years, Luis has dedicated himself to building a movement for educational, social and economic justice in California. Luis was previously a Senior Fellow at the Movement Strategy Center. In that capacity, he led the Boys and Men of Color work and the Building Healthy Communities Statewide Youth Engagement Initiative with the California Endowment. Through his consulting practice, EC Strategy, Luis has served as a strategic planning, organizational development, and media and political consultant for foundations, political candidates, and campaigns, non-profit organizations, elected officials and labor unions. He was also the founding Executive Director of InnerCity Struggle, an organization that works to improve education and the quality of life in East Los Angeles. Luis is a graduate of UC Berkeley with a degree in English and holds a Masters in Public Administration from Cal State Northridge. He resides in the El Sereno section of Los Angeles with his spouse and two children.
---
Prasi Gupta
Secretary
Prasi Gupta is the Director of Outreach and Communication for the SEIU-UHW West Joint Employer Education Fund; a benefit for union healthcare workers to advance their career in the healthcare industry.
Prasi recently worked at the National Guestworker Alliance (NGA), where he co-led national campaigns on labor and human rights for guest workers and for the broader contingent workforce. Previous to joining the NGA, Prasi was the Public Policy and Civic Engagement Fellow for the San Francisco Foundation, where he managed over $1 million in grants to Bay Area organizations working on public policy, civic engagement, faith based, and immigration work. He joined the American Federation of State, County, and Municipal Employees International Union (AFSCME) where he served the union for 11 ½ years in different capacities. Prasi began his career as a union organizer where he spent years leading three state-wide organizing campaigns with the University of Maryland workers, the state employees of New Mexico, and family child care providers in California. He then joined AFSCME's Education and Leadership Training department as the Western Region Education Coordinator. He also worked as a fellow for the United States Student Association (USSA) and the Leadership Conference on Civil Rights (LCCR) before becoming an organizer for the national office of Jobs with Justice.
Prasi grew up in Rochester, NY and attended Clark University in Massachusetts receiving a degree in US History and Comparative Politics. He currently lives in Oakland with his wife and son.
---
Alberto Retana
Treasurer
Alberto Retana is the President and CEO of Community Coalition, a nonprofit organization based in South Los Angeles that empowers residents to transform their communities, improve education and reimagine public safety. As President and CEO, Alberto has developed initiatives to build Community Coalition into a mass based community organization that involves thousands of South Los Angeles residents in the practice of creating change.
Alberto joined Community Coalition in 1998, as a youth organizer and played various leadership roles within the organization. Under his leadership, Community Coalition most recently created the People First Platform, a comprehensive policy agenda informed by over 4200 adults and youth, to equitably move resources to the highest need communities, re-imagine our criminal justice system, and transform the built environment in South Los Angeles. Community Coalition is also working to build a center to serve as a national hub for community organizing training and racial justice activism.
Alberto is the son of Mexican and Costa Rican immigrants. He currently lives in South Los Angeles with his wife, Jennifer Arceneaux, and their two children, Emile and Kahlo.
---